On some key regions around the world, Brightspace was slowly the becoming the hip, FOMO-inducing Learning Management System of choice. While Blackboard, Moodle and Canvas raged on in the U.S., D2L, the Canadian company behind the less conspicuous LMS, was conquering Higher Ed, K-12 and Corporate customers left and right at home, Southeast Asia and Latin America.
But what was looking like a promising year and a savvy marketing effort, suddenly became the biggest stress test 2020 could have given to the D2L brand, its support teams, and particularly its cloud-based architecture. Wrapping up the year, VP of Market Research, Kenneth Chapman, shares a quarterly update about the challenges, active efforts and the great achievements by the Kitchener, Ontario-based company.
2020 Q3 Company overview
In the first of two update videos, Kenneth breaks down D2L's operational results:
Winner at Talent Board's 2020 Candidate Experience Awards, Canada's most prestigious recognition in the candidate experience space. D2L shares the accolade with 54 companies including Accenture, BASF, NASA and Walgreens.
More than 130 new positions, with 135 existing openings in R&D and customer support. Interested? Visit d2l.com/careers
Over 96% customer satisfaction rate
99.99% Year-To-Date availability of the cloud-based Brightspace LMS despite the unprecedented spike in usage and concurrency.
A personal record-breaking number of new "logos" (LMS instances launched) in 2020.
A 50% "closing rate" for D2L's most interesting regions: Asia Pacific, Southeast Asia, Latin America and Europe. The latter has been particularly successful despite the relative youth of the company in the old world. The Netherlands have been a particularly successful country, despite having 0 customers in 2016.
Featured New "Logos"
For the top of the pack in the LMS Space Race, the new game is all about reaching the largest enterprise customer there is. D2L continues to open up doors there, while consolidating a "middle market" characterized by novel educational formats. Continuing education and bolder corporate learning initiatives are still some of D2L's most reliable niche. These sort of organizations are not as mature as the big enterprise, but the large and steady stream in billings is offset by a higher growth and margins.
Athabasca University
In one of the most exciting wins for the years, Brightspace became the largest fully online university in Canada. With D2L and Ellucian powering the experience, one platform will bring together learning management, data and academic records, financial services, credentialing and support "as a seamless whole." For D2L, it is a proud achievement but only a glimpse in what digital transformation may look like for the Higher Ed space. Athabasca plans to leverage the platform to provide post-secondary education to students all over the world.
SUNY Binghamton
The top rated institution in the State University of New York System and the 16th best public university in the U.S. by The Business Journals, Binghamton is another gemstone in the hand of the Canadian LMS provider. Binghamton performed a thorough evaluation process involving end users, who rated the Brightspace experience as consistently superior. The focus on accessibility and D2L's stability and track record were also key deciding factors.
Michigan Virtual
An exhaustive and public documentation of the procurement process and criteria under consideration by the Lansing-based nonprofit that focuses on supporting the delivery of virtual education services by the state's K-12 institutions, stacked up Canvas, itslearning, Moodle by top U.S. Partner Lambda Solutions and the Brightspace option they would eventually settle with. The factors involved in the evaluation process included
Total costs
Reliability
Support
Simplicity
References
Testing
Reporting
Interestingly, an equally relevant factor was "Alignment," defined as the likelihood that both the institution and the provider follow compatible, long-term goals. Regardless of the outcome, the Michigan Virtual case study is a transparent documentation of the process involved in the research, selection and evaluation, all the way down to the pilots, the production-ready LMS and a post-launch satisfaction assessment. (Intricate spreadsheet warnings.)
Singapore
Grabbing the former Blackboard's business, D2L has likely become the largest eLearning provider in Singapore's Higher Ed space. Chapman commends the international growth to their channel strategy, where new customers come from referrals or resellers. They have been key for the inroads in places like the Philippines, India, Hong Kong and Indonesia.
Colombia
Half of the country's top universities are D2L clients, an outstanding achievement in one of the largest Moodle user bases and the prominent presence of players like Blackboard, Open LMS and local player and Latin America's Moodle Partner of the Year, Edu Labs. D2L's CEO, John Baker, has visited the country in recent times, fostering strong bonds with universities and national education authorities, and opening up doors in neighboring countries.
Brightspace Feature Upgrades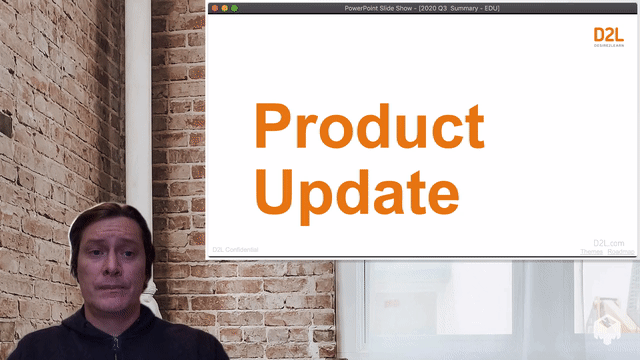 What is this solid record of success owed to? Chapman's second video aims to give an answer. A relentless focus on User Experience, coupled with the long admirable efforts in usability, and speed, which under the hood are paired with a formidable architecture boasting practically no downtime.
While not an open source software, D2L's Brightspace LMS applies essential principles of open software development, providing tools that let clients achieve a deep level of customization; as well as adhering to interoperability standards. Chapman also hints at some of the progress made in areas where elearning platforms are not known for leading the way: APIs, SDKs and Web Components, which have the power to extend the LMS capabilities and expand its reach beyond their own sites and apps, while preserving the iconic Brightspace experience.
The effort, research and investment put into UX cannot be overstated. And perhaps the best illustration is in the new Assignment workflow. Available as opt-in, it encourages teachers to try out and experience the way it lowers cognitive overload thanks to its "progressive disclosure" design. An always visible side panel summarized key information about the assignment, which could be as simple as a title and a prompt, or a series of complex availability rules and options.
Other key product enhancements include:
Next to the Assignment interface, the "Quick Eval" interface is a potential game-changer, with a malleable way to navigate across assignments, submissions or even rubric-based criteria.
A final piece of the evaluation puzzle are the intuitive Rubrics and Scales, Competencies, and Standards interfaces, making it easy to visualize, manage and align them to specific deliverables. The Gradebook also allows to visualize by "Mastery" as well as traditional grades.
Discoverability features in the course catalog, allowing students to search and save courses as favorites, as well as to see "Featured" courses recommended to them by the school.
Video assignments offers data rich dashboards, with machine learning processing to generate and visualize engagement metrics and other insights. Video activities can encourage participation by and active "watch and learn" format. Video can become a straightforward means of interaction, by offering video as an option in assignment prompts, submissions and feedback.
Other algorithmic recommendations and benchmarks are also available across the LMS. The team has been careful enough to frame them as gentle recommendations that never overpower teacher's judgements and final decisions, and can be disabled at any time.
A better integration with Microsoft Teams lets users create teams from within Brightspace, for students to engage on open or private channels. The integration allows to either access Teams from Brightspace, or the LMS from the collaboration platform.
"Pulse" —no relation—, an activity feed for users in iOS devices, behaves as a personalized feed with LMS updates that are relevant to the user. It is expected to roll out soon to Android users.
Self-Serve Analytics provide a basic set of bespoke reports and graphs, which any user can arrange and customize as they see fit. They can share their dashboards or parts of it to anybody within the LMS or outside. Setting thresholds allows for rule-based notifications, in cases such as low scores or drastic relative changes.
An redesigned Engagement dashboard, also available as opt-in, provide quick and specific data for groups of students, allowing teachers to see performance and activity, which can be correlated to identify outstanding issues and opportunities for improvement and targeted action.
Increased functionality on the Portfolio features, which has seen an increasing level of use.
Keep watching Chapman's overview to see what is coming for D2L in early 2021. (Hint: Zoom, Google Analytics) Or watch this space!